As a child, Mozart travelled to Italy three times with his father Leopold and this country gave Mozart a wealth of ideas and strongly influenced his taste in art. The first trip to Italy (December 1769 – March 1771) was both pleasant and honourable. It inspired Mozart with new impressions and ideas, adding more experience and diversity to his art. Mozart was introduced in the Italian art scene, met the Italian upper class, the noblesse, the higher nobility and church dignitaries and even the Pope. He met an old friend from London, the castrate Manzuoli, and met another wunderkind his own age in Florence: Thomas Linley. The two boys developed a close friendship. Pope Clement XIV conferred on W. A. Mozart the Order of the Golden Spur, making the composer "Sir Wolfgang, Signore Cavaliere Mozart". In Bologna Mozart studied counterpoint with the Franciscan Padre Martini. He conducted his opera Mitridate, Re di Ponto at the opera in Milan.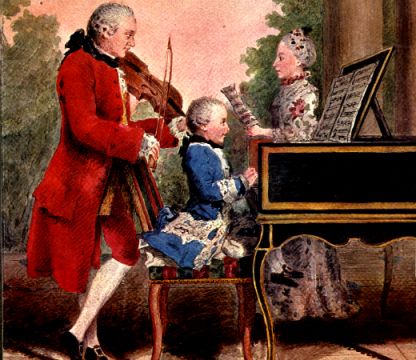 Father and son set off again for Milan in August 1771. Mozart wrote the festive opera "Ascanio di Alba" as a wedding gift for Archduke Ferdinand to the Princess Beatrice of Modena¸ which was received with thunderous approval. The Mozarts returned to Italy from October 1772 to March 1773. Mozart had been commissioned by Milan to write another opera namely "Lucio Silla", that premiered on 26 December 1772 in the presence of Archduke Ferdinand and his wife at the Teatro Regio Ducal.

A night in Lodi
The stay in Lodi dates from the first trip to Italy: after father and son left Milan on 15th March 1770, they headed to Parma. Lodi was a convenient stop on the way to Parma, so they spent the night in the town: it was just a night, but a remarkable one, as the young Mozart composed the first three movements of his very first string Quartet! Mozart was just fourteen when he composed the String Quartet, that in the original conception consisted of three movements: yet a fourth movement was added later, in 1773. In his writing, Mozart was probably inspired by Concertini a 4 istromenti soli by Giovanni Battista Sammartini, an Italian composer that Mozart met during his stay in Milan, but we can find also influences by other contemporary composers like Luigi Boccherini and Baldassarre Galuppi. However, today the Quartet K 80 is still remembered as "The Lodi Quartet": not bad for a one-night-stay, is it?